2021 Eschenbach Award to Prof. Dr. Irem Dikmen Toker & Prof. Dr. M. Talat Birgonul
2021 Eschenbach Award to Prof. Dr. Irem Dikmen Toker & Prof. Dr. M. Talat Birgonul
Prof. Dr. Irem Dikmen Toker & Prof. Dr. M. Talat Birgonul (Middle East Technical University), and Asst. Prof. Dr. Abroon Qazi (American University of Sharjah), have been selected to receive the American Society for Engineering Management (ASEM) 2021 Eschenbach Award for the Best EMJ Paper published in 2020 for their paper entitled 'Mapping Uncertainty for Risk and Opportunity Assessment in Projects'.
This award annually recognizes the best journal article published in the Engineering Management Journal (EMJ). The award winning article contributes significant extensions of EM concepts, has effective integration of analytical and management concerns as a primary premise, includes high quality design of the study and collection of data, and makes conclusions with broad application to a range of EM organizations.
The award will be presented at ASEM's virtual International Annual Conference (IAC), October 27th-30th, 2021.
We congratulate professors Dikmen Toker and Birgönül.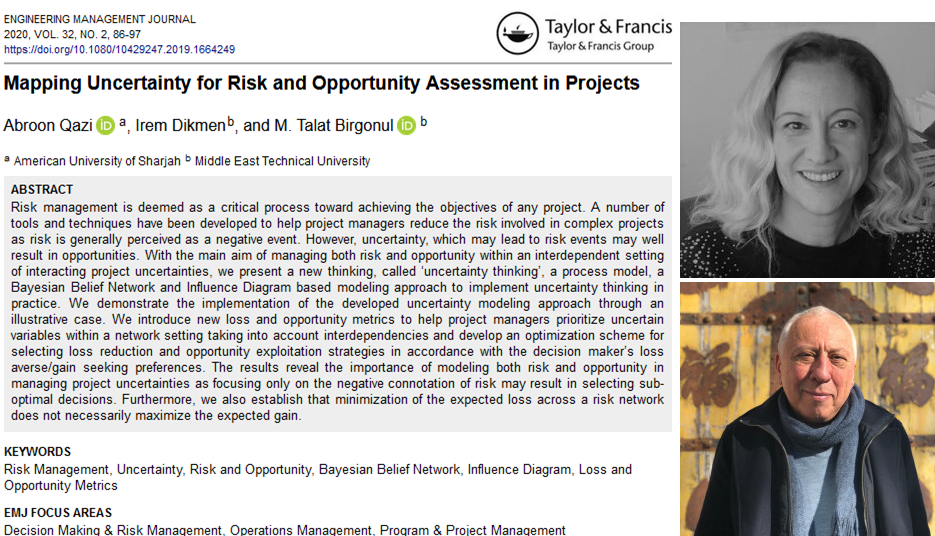 ---
Last Updated:
25/08/2021 - 15:24