New International Project on Climate Change and Cultural Heritage
Project name: CRAFT: Developing a Novel Climate Change Risk Assessment Framework for Cultural Heritage in Turkey
Funding Agency: UK Arts and Humanities Research Council (AHRC) (http://www.ahrc.ac.uk), Global Challenges Research Fund (GCRF)
Project Objective: To evaluate the impact of landslides and flash flooding on selected cultural heritage sites in Istanbul under future climate scenarios by developing susceptibility / vulnerability maps via Geographic Information Systems
Turkey is one of the most archaeologically andculturally rich places in the World
with 18 UNESCO World Heritage sites, and anadditional 85 locations in the tentative
list (https://whc.unesco.org/en/statesparties/tr). Flooding and landslides are
someof the most destructive types of natural disasters in Turkey. Flood impacts
inTurkey are felt severely in major cities of the country, especially in
recentyears. Istanbul (the largest city of Turkey with 15 million inhabitants)
andits UNESCO World Heritage historical areas have recently suffered from
frequentfloods as a result of intense rainfalls under a changing climate.
There are clear indications of shifts inclimatic patterns all around the world.
Climate change prediction studies haveanticipated that the possibilities of
occurring of extreme precipitation andfloods in Marmara and Black Sea regions in
Turkey will increase. There is an urgent need for flooding and
landslidesusceptibility mapping of cultural heritage and risk management of
monuments inTurkey, particularly in Istanbul, as was also noted by the
InternationalCouncil on Monuments and Sites, ICOMOS.
This research is a direct response to this urgent need. Amultidisciplinary team of
experts from Durham University (UK), Middle EastTechnical University and Yildiz
Technical University in Turkey will work withthe Istanbul Metropolitan Municipality
and National Disaster Agency (AFAD),carrying out risk assessment studies for long
and short term negative effectscaused by climate change, primarily floods and
landslides for HistoricalPeninsula and the UNESCO World Heritage sites in
Istanbul. With this pilotstudy will be developed a novel climate change risk
assessment framework forcultural heritage in Turkey.
The main aim of this research is to reach a more resilient andsustainable heritage
within Istanbul by utilizing from a novel methodology thatwill direct investments
for those assets to be more efficient. This aimdirectly addresses the United Nations
Sustainable Development Goals Nr.11:Sustainable Cities and Communities; in which,
4th target is to "strengthenefforts to protect and safeguard the world's cultural
and natural heritage".
Project Duration: 1 December 2020 – 31 March 2022
Total Budget: 149947 GBP
Partners:
Ashraf Osman, Durham University, UK (project coordinator)
Nejan Huvaj, Middle East Technical University, TR (TR local coordinator)
Meltem Şenol Balaban, METU
Zeynep Gül Ünal, Yıldız Technical University
David Toll, Durham
Marti Lloret-Cabot, Durham
Michael Anthony Crang, Durham
Mehmet Akif Alkan, AFAD
Betül Konukçu, Istanbul Metropolitan Municipality
Emin Yahya Menteşe, Bogazici University Kandilli Observatory and Earthquake Reseach Institute
Samprada Pradhan, Durham
Olgu Orakcı, METU
Banu Gökmen Erdoğan, YTU
Anıl Tarancı, METU
Zeynep Ece Atabay, YTU
Aynur Uluç, METU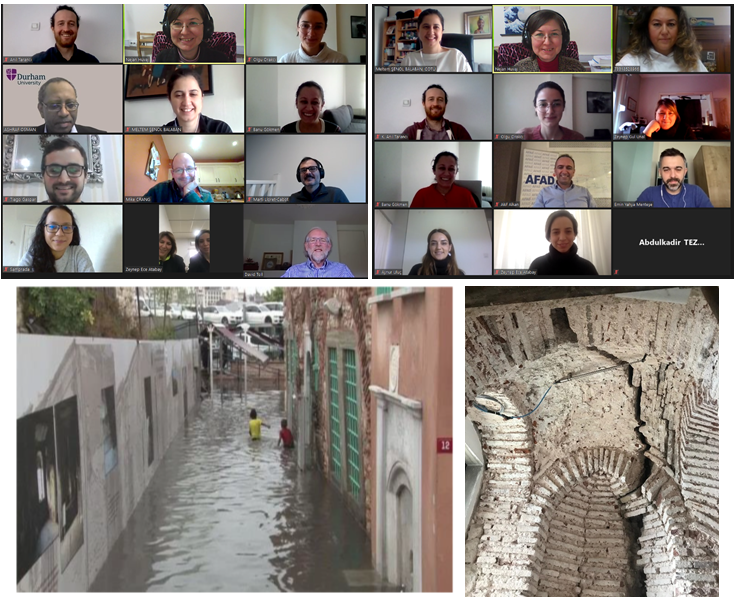 ---
Last Updated:
18/02/2022 - 13:40